Henrique Bezerra - Government Relations Director & Deputy Country Manager, Brazil
With the deadline now passed to register the presidential candidatures at the Superior Electoral Court (TSE) and free electoral coverage on radio and television due to start on August 31, debates and rallies have gained national attention, and the campaign for Brazil's general elections in October is now on. But even as the country approaches election day, uncertainties and surprises keep mounting.
The leading candidate at the polls, ex-president Lula, from the Workers Party (PT), was finally registered with Fernando Haddad (PT), ex-mayor of São Paulo, as his running mate. This followed weeks of uncertainty over whether PT would insist on nominating a candidate who will likely be unable to run, currently in jail for being convicted on charges of corruption. Lula is appealing the ruling, and while it is all but guaranteed that the conviction will be upheld, he continues to enjoy an astoundingly loyal electorate, granting him around 30% of voters' intention on all recent polls.
The Court has until September 17 to decide on who is eligible to run according to the Clean Record Act, a law passed during Lula's second-term, which forbids those convicted of corruption and other crimes from running for office. However, TSE is expected to fast-track the judgment of Lula's eligibility, as it is regarded as central to the stability of the upcoming elections. In the almost certain scenario where Lula is impeded to run for office, Haddad will replace him on the ticket, with Manuela D'Ávila from the Brazilian Communist Party (PCdoB) as his running mate. The question now is when this will be decided, and how much time PT and Haddad will have to convince voters that Haddad is Lula and Lula is Haddad.
A Changing Landscape
Aside from the unusual "Lula-Haddad-D'Ávila" candidature, a further 12 candidates were registered. The formal proposals presented to TSE were in line with each candidate's rhetoric and profile, as described in our previous election article. Of the 13 candidatures presented, the most relevant are shown below ranked by their latest polling, their allocated time in electoral TV broadcasts and respective number of Facebook followers: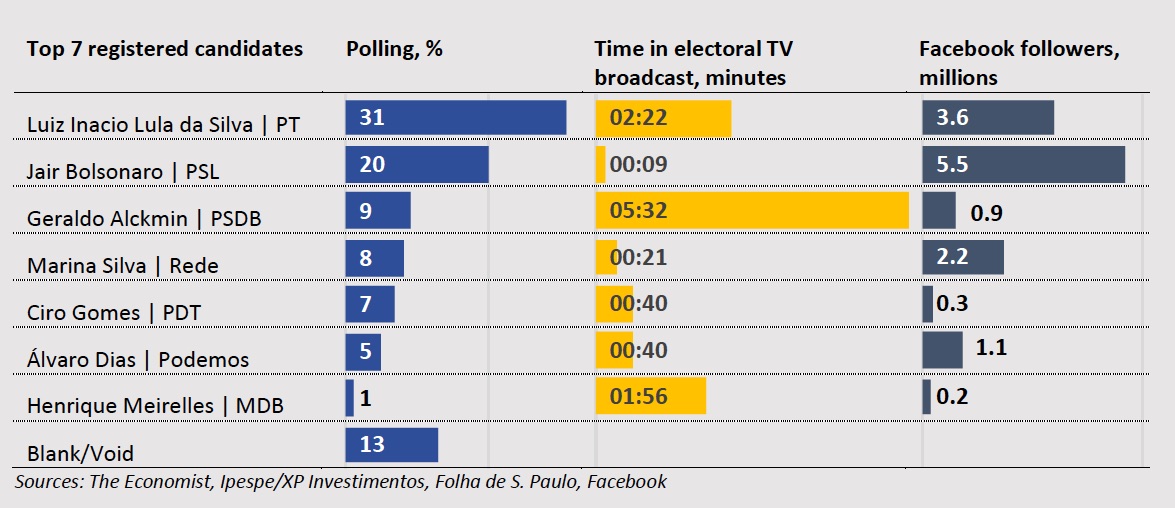 These numbers explain why Brazil's upcoming elections are a gold mine for political and news media analysts the world over. The power of social media outlets in forming political opinions will be quantitatively and qualitatively compared to the fading power of mass media outlets such as TV and Radio. Far-right candidate Jair Bolsonaro, from the (ironically) Social Liberal Party (PSL), is leading the polls in all scenarios where Lula is not present at the ballot. However, he has only 9 seconds on the free TV campaign, while owning a whopping 5.5 million Facebook followers. Bolsonaro also has an unmatched WhatsApp penetration, the most important online media source among Brazil's vast 3/4G-internet-only users. The upcoming elections should give a clearer-than-ever glimpse on the importance and influence of these new platforms.
All said, center-right and market-friendly candidate Geraldo Alckmin, from the Brazilian Social Democracy Party (PSDB), was the clear winner in forming a wide coalition of political parties that granted him 44% of all free television advertising time and a wide political platform in all states to campaign. Alckmin will also get the biggest share of 2.6bn reals ($700m) in public campaign financing. For the first time in a presidential election, corporate donations are banned, whereas individual donations are still allowed in contributions of up to 10% of each voter's annual income.
Uncertainty Remains the Only Constant
In addition to choosing their President for the coming four years, Brazilians have until October 7th to pick their state representatives, governors, federal representatives and senators. If any governors and/or presidential candidates fail to gain more than 50% of the votes, the two highest polling candidates will head to a second-round run-off election, which would be held on October 28th.
All eyes are now on each of the leading candidates' platforms, how well they campaign, and more than ever, on the social mediums they use to gain wider support. In such a fragmented election, 15% of the votes could be enough to take a candidate to the run-off. Will Brazilians give in to the populist rhetoric the leading candidates are betting on, or will they choose the more centrist conciliatory candidates at the ballot? We will soon have the answer.
---
To inquire about a potential need for support, please contact:
Henrique Bezerra, Government Relations Director & Deputy Country Manager, Brazil